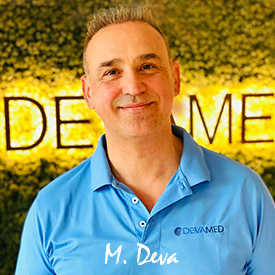 Osteopath IAO/ M.Sc. Ost FHG
Dipl. Physiotherapist SRK
Dipl. Microbiologist FNT FVZ
Training Skills
Craniosacral Therapist IAO
Dipl. Sports Physiotherapist ESP®
Dipl. Manual Therapist SAMT-MMI/MMO
Dipl. Craniomandibular Dysfunction Osteopath CMD
Dipl. Golf Osteopath D.G.Ost.-EAGPT e.V®
Dipl. Golf Physio Trainer GPt.T-EAGPT e.V®
Dipl. Prevention Rehabilitation Trainer BSA-LR
Dipl. Fitness Instructor - Personal Trainer BSA
Dipl. Gyrotonic Pre-Trainer CXS®
Dipl. Gyrotonic Trainer CXS®
Dipl. Nordic Walking Trainer FBZ
Dipl. Dorn-Breuss Therapist DBT
Dipl. Lactate Diagnostician
Dipl. Taping
Dipl. Kinesiotaping
Specialisations
Osteopathy, manual therapy, spine specialist, Craniomandibular Dysfunction (CMD), fascial therapy, pain therapy, rheumatology, orthopaedics, traumatology, prevention, rehabilitation, Lactate diagnostics, personal training, sports physiotherapy, sports rehabilitation, golf osteopathy, golf physiotherapy, medical exercise Therapy–MTT, Gyrotonic CXS®, Shock Wave Therapy etc.
Professional Activities
My dreams of owning a practice as osteopath and physiotherapist/ sports physiotherapist became true on May 2, 2008 at the medical centre 'Ärztehaus im Stadthof', Hauptstrasse 45, in Reinach BL, where I opened my premises 'PhysioDeva'.
For 7 years I worked at Bethesda-Spital AG at Basel, Switzerland, where I gained valuable experience in physiotherapy. Among others, I worked as osteopath, physiotherapist/ sports physiotherapist as advisor of trainees, as project leader of Rheumatology-Fibromyalgia by Prof. Dr. Keel, Lactate Diagnostics, as well as advisor in the MTT sector. Even today we closely cooperate with the Bethesda-Spital Basel.
Furthermore, I dedicated myself to the work in the field of sports at eminent gyms, such as the 'Isana Sportforum' and at the 'Maxx-Gesundheitszentrum' in the area of Lörrach. Furthermore, I look back on 30 years of experience in sports.
Language Skills
German
English
Serbian
Croatian
Bosnian